Short Note
Toyota Vitz hybrid grade – A hybrid system with a 1.5-liter engine. Thrilling acceleration is produced by merging the engine and motor, in addition to remarkable environmental performance of 34.4 km/L.
The exterior design aims for distinctiveness, with broad and low front and back views conveying a wide and low stance.
On January 12, 2017, in Toyota City, Japan, the "Vitz" was partially redesigned by Toyota Motor Corporation, and sales began on January 12 at all Netz dealers across the country.

The Vitz is a Toyota brand vehicle that launched in 1999 and is now offered in more than 80 countries and regions, including Europe.
Advertisement ~ Scroll to continue
The hybrid grade was added to the range as part of the partial redesign in response to significant consumer requests and increased demand for hybrids in the compact hatchback sector, which the Vitz falls within.
Furthermore, significant alterations to the external appearance were undertaken in order to produce a car with even more market presence.
The redesign's development idea used as much information and technology as feasible in order to make significant gains that go beyond those usual of a partial redesign.
The hybrid system was upgraded, the shock absorbers were modified, and several portions of the body were made more stiff to give remarkable driving performance in line with this approach.
Furthermore, an interior design with all-black ornamentation was implemented, as well as additional enhancements to improve product appeal.
The same enhancements are available in Welcab variants (specially equipped cars with factory-installed features for the handicapped and elderly).
The Vitz is part of the Toyota Compact Car Company's line of vehicles. "The Vitz pushes the frontiers of small car manufacture by integrating the newest environmentally friendly and safety technology with responsive and fun-to-drive dynamic performance," said Kazuhiro Miyauchi, president of the Toyota Compact Car Company, during the vehicle's launching.
The market scale for hybrid compact hatchbacks was approximately 80,000 units in 2011, but increased to approximately 310,000 units in 2015; based on Toyota calculations.
Main Features
1

Adopting a Lightweight and Compact Hybrid System to Achieve High Fuel Efficiency and Roominess
Hybrid System
The new Vitz comes with a 1.5-liter hybrid engine that has better control over the engine, motor, inverter, and other components. The hybrid variant has a class-leading 34.4 km/L fuel economy.
This meets or surpasses the Japanese government's 2020 fuel efficiency criteria by at least 20%, and emits at least 75% less than the 2005 limits established under the Japanese government's Approval System for Low-emission Vehicles.
As a result, the hybrid Vitz qualifies for Japanese government subsidies and tax breaks for environmentally friendly vehicles.
Key Hybrid System Specifications
Engine
Model
1NZ-FXE
Displacement
1,496 cc
Maximum output
54 kW [74 PS]/4,800 rpm
Maximum torque
111 N・m [11.3 kgf・m]/3,600 rpm-4,400 rpm
Motor
Maximum output
45 kW [61 PS]
Maximum torque
169 N・m [17.2 kgf・m]
Complete system
Maximum output
73 kW [100 PS]
Battery
Nickel-metal hydride
Maneuverability and Package
Using both engine power and electric motor power; based on Toyota calculations.5.6 m in the case of the Hybrid U and Sporty package. The gasoline Vitz model with 165/70R14 tires has a minimum turning radius of 4.5 m.
In terms of mobility, the package has a length of 3,945 mm (60 mm greater than the previous model) and a width of 1,695 mm, resulting in a minimum turning radius of 4.7 m.
Both the interior and cargo space of a gasoline vehicle have been obtained by positioning the drive battery behind the back seat.
2

Exterior Design Features that are More Impressive, with a Sense of Dynamism and Refinement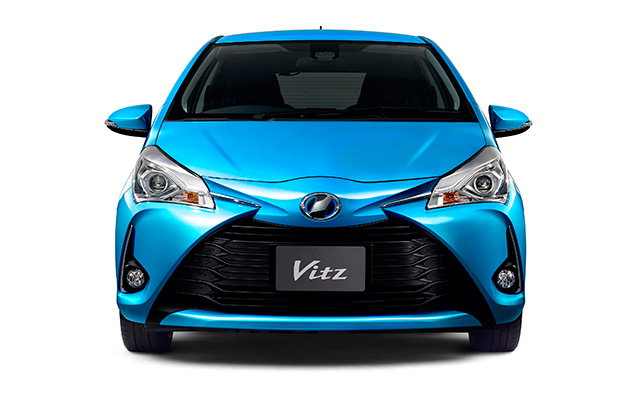 Front, Rear, and Side Views
Front:
The main areas of change are the front bumper, low grille, headlights, and fog lamp cover.
The wide and low stance is emphasized, providing a dynamic feel and a sense of a low center of gravity.
Bi-Beam LED headlights (with auto-leveling function and smoked plated finish) are available as an option, and when combined with the line-emitting LED clearance lights, the ruggedness is emphasized.
Rear:
The main changes are to the back door, back door garnish, rear combination taillights, rear bumper, and rear wiper.
Similar with the front view, the wide and low stance is emphasized.
LED line-emitting taillights are available as an option. The brake lights, which incorporate six LEDs, create an impressive rear view.
Side:
The wheel design has been updated to create an enhanced feel.
Variations in color
There are 17 exterior colors to choose from, including the new Avant Garde Bronze Metallic and the newly created Clear Blue Crystal Shine (option).
Dark Blue Mica and Olive Mica Metallic are new glossy decorations that are only available for a limited time.
The Jewela grade (including the Smart Stop package) will continue to use 14-inch steel wheels (with exclusive resin full caps). Plated ornamentation on the door mirrors and exterior door handles exclusive to the Hybrid Jewela and Jewela (including the Smart Stop Package) grades (option).
3

Refined Interior Designs Exude Consistency
Interior color: Marsala

Interior color: Barrel Brown
All ornamentation is black, creating a refined interior.
Barrel Brown, a brown shade, is now available on the U grade (including the Sporty package), conveying a modern and refined space. In addition, the new Marsala, a sepia tone, is available on the Hybrid Jewela and Jewela (including the Smart Stop package) grades, enhancing the hatchback's sense of quality.
4 Others
Basic Performance Has Significantly Improved
Driving performance has been improved by using shock absorbers with a new structure, increasing the number of spot welds on various parts of the body, and making other changes to increase body rigidity, as well as increasing the thickness of braces around the instrument panel. This provides exceptional maneuvering stability as well as a comfortable ride in the Vitz hybrid.
Toyota Safety Sense C collision avoidance assist package and hill-start assist control have also been made standard on all models, promoting safer driving.
Sporty package redesigned
A new Sporty Package has been developed for the Vitz hybrid, with 16-inch aluminum wheels, aerodynamic components, and a sporty look.